The following discounts are available to our "Hometown Heroes" - Military, Police and Fire personnel
(please check each individual discount for additions or exclusions)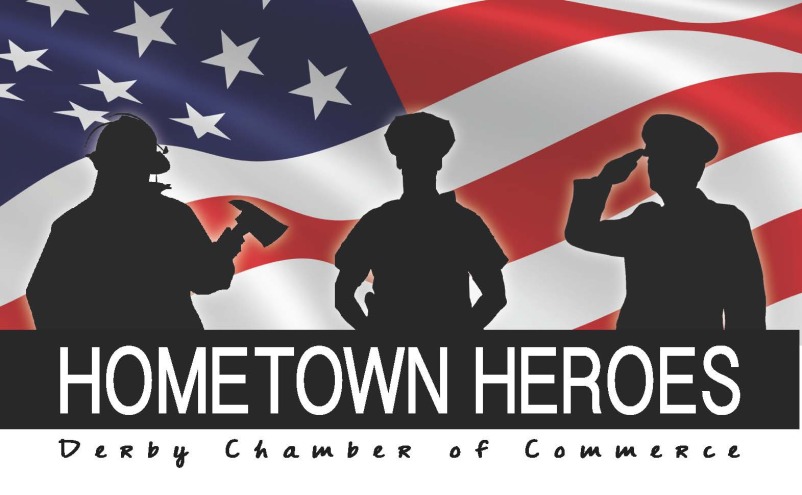 Artistic Angles Custom Picture Framing
130 N. Baltimore
Derby, KS 67037
10% off any framing services and/or materials; can be used in conjunction with other discounts
Embry-Riddle Aeronautical University
53474 Lawrence Court, Bldg. 412
McConnell Air Force Base - Wichita, KS 67221
Military tuition discount for all active duty, reserve and guard
($750 per 3 hour undergraduate class)
Express Employment Professionals
620 N. Baltimore, Ste C
Derby, KS 67037
Quik Trip or Starbucks Gift Card to any Retired or Working Military, Police, Fire and Teachers; who apply for either part-time or temporary assignments AND are placed on an assignment
Farmers Insurance - Olmsted Insurance Agency
1819 S. Rock Road, Ste 101
Wichita, KS 67207
Discounts on auto and homeowners (Condo or Townhouse, homeowners, mobile home and renters) insurance which offers Replacement cost on contents coverage and Extended replacement cost coverage. The discounts stack on top of each other for each item covered.
Grene Vision Group
1821 E. Madison, Ste 1600
Derby, KS 67037
Laselva MMA
1906 N. Johnson Drive
Derby, KS 67037
Police Officers : 50% off on Brazilian Jiu Jitsu Traning
Lowe's Home Improvement
424 W. Patriot Ave.
Derby, KS 67037
Active & Retired Military: 10% off your purchase
McDonald's Sewing & Vacuum
609 N. Baltimore
Derby, KS 67037
10% off vacuum bags, belts, filters, parts, and accessories, as well as Sewing Machine parts and notions. Other discounts on sewing machines and vacuums will be available.
Old El Paso Pit BBQ
128 E. Madison
Derby, KS 67037
Active/Retired Military & First Responders (Police, Fire, EMS) : 15% off your purchase
Pita Pit
1918 N. Rock Road, Ste 700
Derby, KS 67037
10% off your purchase
Shirt's Plus
703 N. Buckner
Derby, KS 67037
Steve's Jams & Jellies
5111 S. Meridian, Ste 230
Wichita, KS 67217
10% off your purchase (includes USD 260 teachers)
Stress Busters Therapeutic Massage
1747 Osage, Ste A
Derby, KS 67037
Active military, police, fire with ID : 20% off any one hour or longer massage
Retired military, police, fire : 10% off any one hour or longer massage


*some restrictions apply
The Derby Informer
219 E. Madison Avenue
Derby, KS 67037
10% off of a 6 month or longer subscription
The UPS Store
620 N. Rock Road, Ste 230
Derby, KS 6737
5% off your purchase excluding postage stamps
(includes public school teachers with ID or in uniform)
Wheat State Hobbies
124 S. Baltimore, Ste C
Derby, KS 67037
Wichita State University South
200 W. Greenway St., Ste 15A
Derby, KS 67037
Up to 20 single pages of documents copied, printed or scanned free of charge.
20 or more pages at a discounted rate of 5 cents per page. (includes EMT personnel)